How to become a Doctor in India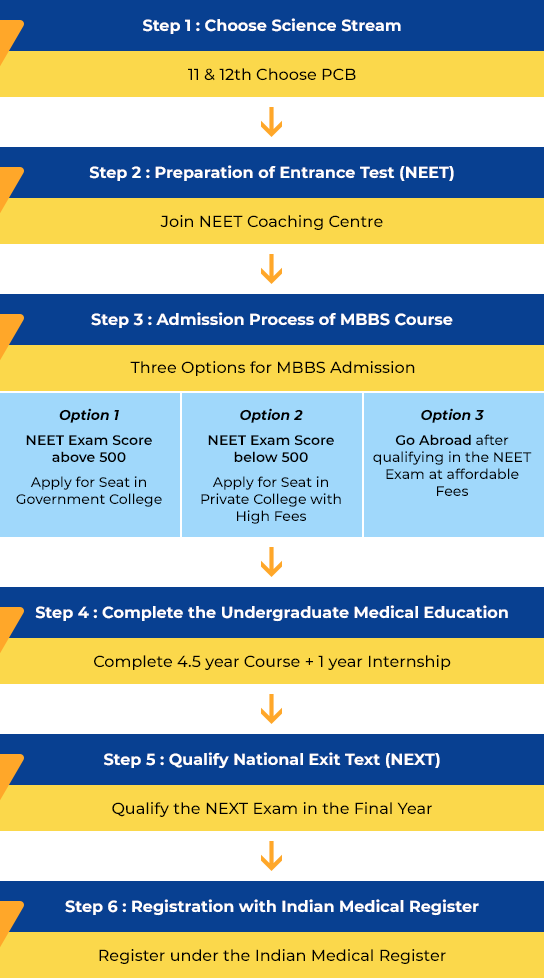 Doctors in India enjoy a high level of prestige and respect. They are highly sought after by both the public and private sector. The career prospects for doctors in India and abroad are excellent, and there is a great demand for doctor's services. There are a number of hospitals and clinics in India that are looking to hire doctors. Additionally, there are a number of private medical practices that are always looking for doctor's to join their team.
The process of becoming a doctor in India is quite rigorous, and it usually takes around 10 years to complete all the necessary education and training requirements. However, it is one of the most rewarding professions in the world.
The first step is completing an undergraduate degree in medicine, which requires 4.5 years of study. After graduating, you must complete a one-year internship and three years of residency training to become a qualified doctor.
Step 1 : Choose Science Stream
As a parent planning to make their child a doctor, or for a student dreaming of becoming a doctor, the planning needs to start from the 9th standard itself.
In the 9th and 10th standard a student must study Maths and Science as subjects.
In the 11th and 12th standard, the student needs to choose the science stream and take up Biology, Chemistry and Physics with English as subjects (all 3 science subjects are required if you want to become a doctor).
To be eligible for Admission to any MBBS College, you must score minimum 60% in 12th standard, and an aggregate of 50% marks (required).
Step 2 : Preparation of Entrance Test (NEET)
If you want to be a doctor, then it's time for the National Eligibility Test. The NEET is conducted by NTA and will decide if your application gets accepted into one of India's many medicine colleges across undergraduate programs like MBBS or BDS!
The NEET (UG) syllabus for the exam consists of the core concepts of Physics, Chemistry and Biology which are taugh in classes 11 and 12 as prescribed by the NCERT.
Many schools and institutes offer guidance and help students prepare for the NEET exams. You can join an institute in 11th standard and start your preparation with good time of two years to get ready for the medical entrance exam (NEET).
In case you did not join the MBBS preparation classes in 11th or 12th standard, a student also has the option to join a fast track preparation track by joining a NEET crack course with an institute.
Some of the top coaching institutes in India like Allen, Akash, VidyaMandir offer excellent NEET Coaching classes and preparation guidance for students.
NEET Coaching costs INR 60000/- to INR 120000/- approximately per year.
While many students go to Kota for their NEET preparation, however, now most of these institutes have centers in most cities as well as there are many good interdependent NEET Coaching centers.
Step 3 : Admission Process of MBBS Course
For a student to be able to enrol into an MBBS course and becoming a practicing doctor in India, the following are the eligibility criteria:
Minimum age of 17 years
Science subjects of Physics, Chemistry and Biology (PCB) in 11th and 12th standard are compulsory
Minimum marks of 50% for General category student or 40% for reserved (SC/ST/OBC) category student in their 10+2 exams are required as per the MCI/NMC guidelines.
Qualify in the National Eligibility Entrance Test (NEET).
NEET exam is for a total of 720 marks.
In 2021, the minimum qualifying marks were 138 in the General category and 108 in the reserved category.
Keep in mind, you need a score above 500 marks out of the 720 marks NEET exam in order to apply for admission to a government college. With less than 500 marks, a student can only apply for admission to private medical colleges. The average fees of private medical colleges is about INR 80 Lakhs to INT 1.20 Crores depending on the college/institute.
There is another option if you plan to pursue an MBBS degree after qualifying NEET, at a very affordable cost. Many students go abroad each year and take their MBBS courses in countries like Russia, Kyrgyzstan, China, etc. – All popular destinations which offer MBBS degrees which are equivalent to the Indian MBBS degree.
It also has the added advantage of having access to the latest facilities and technologies in the medical field and opening up opportunities to practice medicine the world over.
Speak to a Vidya Edify counsellor today to know more about studying MBBS in India and Abroad.
Three Options for pursuing MBBS Course :
Option 1
Option 2
Option 3
NEET Exam Score above 500
Apply for seat in Government College
NEET Exam Score below 500
Apply for seat in Private College with High Fees after qualifying in the NEET Exam
Go Abroad after qualifying in the NEET Exam at Affordable Fees
Contact Us today for a free consultation about MBBS admission.
Step 4: Complete the Undergraduate Medical Education
Select and Apply to an MBBS/ Medical College which is approved by the Medical Council of India (MCI), National Medical Commission (NMC), and authorized by any one of the state governments. The academic program is for around 4.5 years and there are many colleges in India that offer undergraduate medical courses. The world of medicine is fascinating and as a student, you get to learn about all aspects of Human Health from anatomy and physiology to pharmacology and public health.
After completing your academic program, you will spend one year being training in clinical skills where you learn how to diagnose and treat diseases.
You will earn the title of 'Doctor' after completing your training and be able to provide quality healthcare to those who need it.
Step 5 : Qualify National Exit Text (NEXT)
Introduced by the National Medical Commission Bill 2019, the Indian government has proposed a new examination called The National Exit Test (NEXT) for all MBBS students. The NEXT will be mandatory for all students who graduate from MCI/NMC-approved medical colleges in India and Abroad.
Every MBBS student needs to qualify for the NEXT exam in the final year and get a license as an intern or resident doctor in India and practice medicine.
The introduction of this bill aims at improving access into postgraduate medical education by increasing merit based admissions instead off legacy system.
This means that a student can now gain admission to postgraduate medical programs by invitation based on merit and result of NEXT.
The NEET-PG exam may get replaced by National Exit Test. It is designed to test the skills and knowledge of final-year medical students.
Step 6 : Registration with Indian Medical Register
In order to become a practicing Doctor in India, a medical student after clearing their NEXT exam, needs to register themselves with any state medical council if India, which makes them eligible to register under the Indian Medical Register.
Postgraduation :
After completing their MBBS, many medical professionals opt to pursue a postgraduate degree in medicine. This allows you to specialize in a particular area of the field and further your knowledge and skills. There are many different types of postgraduate degrees in medicine available, and choosing the right one can make a big difference to your career in Medicine.
Career Prospects :
The career prospects for doctors in India are excellent. With a population of over 1.3 billion, India has a high demand for talented medical professionals. Doctors can find employment in both the public and private sectors, and there are many opportunities for advancement.
There are many career prospects for doctors in India. Some of the most popular medical jobs in India are in hospitals, in clinics, in private practice and in the government sector. The salary for doctors in India varies depending on the job position and the doctor's experience. However, on an average, a doctor's salary in India is around Rs. 400,000 to Rs. 600,000 per year. This salary range goes up with specialisation, post-graduation, and experience. There is no upper ceiling on the earning potential of a doctor or surgeon.
In addition, doctors in India enjoy a good salary and excellent benefits, including paid vacation leave and medical insurance. And enough cannot be said about the social recognition and honor one receives the world over.
Important Considerations :
There are a few important things to consider before you embark on the journey to becoming a doctor in India. The first is the cost of education. Medical school in India are not free, and can be quite expensive. You also need to be prepared for the time commitment involved in becoming a doctor. Medical school in India typically lasts for five years, and after that you will need to complete a one-year internship and take up residency. Add a few more years if you want to pursue post-graduation and specialisation.
Once you have completed your education, you will be in a good position to start your career as a doctor in India. The medical profession is highly respected in India, and there are many opportunities for doctors to work in both the public and private sectors. There are also many opportunities for doctors to work abroad, and the salaries are generally good.
So if you are interested in becoming a doctor in India, be sure to research the different medical schools and career options available to you. The journey may be challenging, but it is definitely worth it in the end!
Different Kinds of Doctor Degrees :
You can become a general physician by pursuing an MBBS degree, or specialising in any of the streams. You can also pursue a medical degree in : BDS (Dentistry), BAMS (Ayurveda), BHMS (Homeopathy), BUMS (Unani), B.V.Sc. & AH (Veterinary Science), Pharm D, BPT (Physiotherapy), BOT (Occupational Therapy), PhD programs etc.
The process of becoming a doctor is challenging but rewarding, and there are many opportunities for professional growth. So if you have the passion and drive to become a doctor, India is the perfect place to pursue your dreams.
If you are interested in becoming a Doctor in India, you can Contact our Vidya Edify Specialist today for assistance.